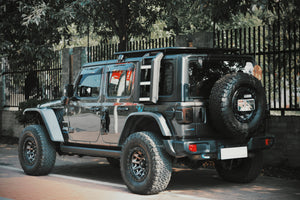 WS Series Roof rack and Side ladder
WS Roof Rack and Side Ladder For Jeep Wrangler JK/JL(2/4 Doors)
Today, we are going to introduce the WS series products, roof rack and side ladder. It has two versions, For JK and JL. Next, let's tell something about the details below.
First, let's begin with the JK version.
The overall design of this luggage rack is relatively novel, which is different from the products in the market. The logo is stamped with a machine laser. Nomally, roof rack can bear about 200-300KG.
This roof platform is made of unique craftsmanship as a whole, and the contoured surface completely fits the body design. More stability and firmness. At the same time, the texture is also fundamentally different from other products.
And this is the pictures that roof rack installs on 2 doors JK
Another feature of this product is the Side ladder.
Unlike all previous ladders. The ladders we have seen before are not collapsible, which is very inconvenient for us to go up to the roof. We have to step on the tires before going up to the side ladders.
But this side ladder is different, it can be folded, as shown in the picture, the length after it is folded out is also enough, we can easily board the side ladder. And It can bear about 150KG.
Similarly, this ladder can also customized logo. 
Next, let's follow with the JL Version.
Overall there is not much difference between the JK and JL versions.The only difference is:
First: JK luggage rack installation needs to be attached to the trunk glass, while JL does not
The second difference is that there is no rain groove in the rear part of JK, so adding a support point can have better load bearing
If you have any problems just contact us!
Thank you for your visiting.
---