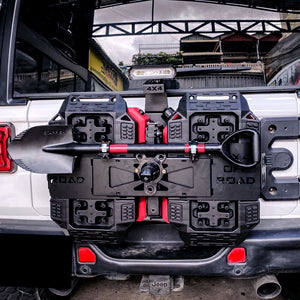 Maiker Tailgate Equipment Integrated Group For Jeep Wrangler JK/JL
Do you have a problem that the spare tire is basically not used in the daily driving, but you can't find a suitable solution or product to solve it? Today, our newly launched product is sure to help you solve this problem. Let's introduce this product in detail below.
- Content -
A pair of oil drums, a shovel, a pair of escape plates, expansion panels on both sides, camera brackets, high-position brake light brackets, and linkage locks Stop opening and closing panel
With lock design, which can prevent theft of the rescue plate and the oil drum, and also solve the problem of bumps and looseness in the off-road section. 
The expansion panels on both sides can be fixed, fire extinguishers, shovels, trailer belts and other outdoor rescue equipment.
The position of the license plate is also designed at the most reasonable and best fixed point, and the design of its outline highlights the overall sense of equipment.
---