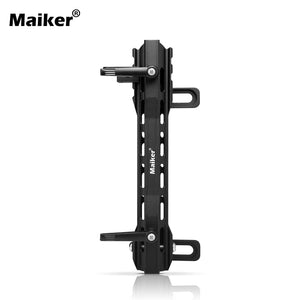 Maiker Tactical Flagpole Holder Bracket For Jeep Wrangler JKJL
"Tactical Flagpole Holder Bracket"
Continue to deeply evolving your Wrangler

- Material -
Made of heavy duty aluminum alloy with durable powder coat finish for corrosion resistance.
The Logo stille can be customized.
- Three in One Design -
Antenna bracket can be placed on the Holder left side. The middle can be used as a flagpole bracket(Adjustable Thumbscrew Holds Pole Firmly in Place Plus).The right side coule be placed the military shovel.
The upper and lower handle screws can ensure that the flagpole is more stable and firmer.
---