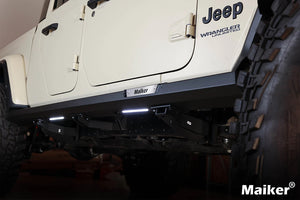 Maiker Side Step Bar With Light For Jeep Wrangler JKJL/JT
Maiker New Product Released!
JKJLJT Side Step With Light
— Stress Resistance—
During the design process, we paid attention to the stability of the connection between the side bar and the girder to ensure that the combination of the side bar and the body is firm and reliable.
Made of Q235A 4mm carbon steel, and it is molded with an integrated bending process to create excellent strength and durability, with very high pressure resistance.
—
 Style 

—

Through the delicate design, the side bar and the body form a simple and coordinated style, which not only adds to the beauty of the vehicle, but also highlights the taste and personality.
The curved shape perfectly matches the cut angle. Integrate into the body design, silky and smooth
The surface treatment adopts electrostatic spraying process (dust spraying), and uses imported powder spraying, which not only highlights the simple style, but also has a high-grade frosted feeling.
—
 With Light Design 

—

Solve the problem of blind spots in the off-road at night, greatly improve off-road safety, and can also be used as night running lights or chassis lights in daily life.
—
 Protection Mechanisms

—

The side bars not only protect the aluminum alloy body of the original car, but the unique design keeps a precise distance from the body, so you don't have to worry about scratching the paint.
—
 More Details 

—
---