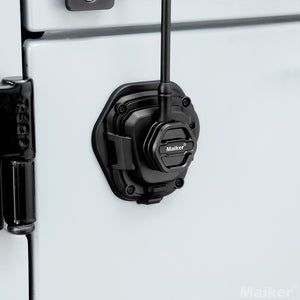 Maiker New Antenna Base Cover For Jeep Wrangler JKJL/JT
"Maiker Antenna Base Cover"
Continue to enhance the new style
— Product Video —
— Design —
The designer adopted a thick three-dimensional design for the core part of the antenna cover, which is made of aluminum alloy (6061) and perfectly integrated with the tough style of your Wrangler. After the antenna is installed, the unique design style makes the whole part look more technological.
The base refers to the design of the three-claw robotic arm to enhance the visual effect, makes the whole part look tougher
Embedded structure superposition design, meticulous and bold multi-layer structure, creates a multi-dimensional visual impact of Maiker antenna cover
All parts adopt consistent high-precision plastic spraying process, so that each part maintains the same blackened depth. Original car data modeling, easy disassembly and assembly.
— Parts List—
Antenna cover middle shell * 1, antenna cover bottom shell * 1, spare panel *2, original car screws (black) * 4, hexagonal key * 1
—
 

More Details—
---