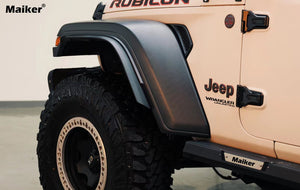 Maiker Fender Flare Extension Trim(Fit Origin Low Fender) For Jeep Wrangler JL/JT
— JL/JT New Product —
Extension Fender Trim
- Material -
Manufactured from High quality abs material. Wear-resistant, high-temperature, and corrosion-resistant.
- Mudguard -
 It provides a wide and sturdy barrier between tires and the body of your Jeep, effectively keeping dirt, rocks, and other debris from damaging the paint and can also keep your Jeep cleanliness.
- Cover Large Size Tires -
Many People lovo to customize their ride, one of the projects is to upgrade large size tires. But there is a problem that some countries stipulate tires cannot exceed the fender flare, our extension trim can help you solve this problem.
- Loading Effect -
---