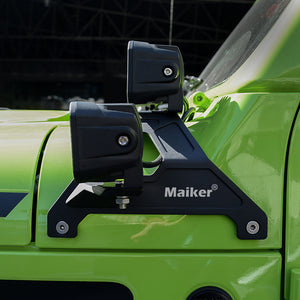 Maiker Dual A-Pillar Light Mount Bracket For Jeep Wrangler JL/JT
Released!
A Pillar Light Bracket independently developed by Maiker
— Fit —
Maiker conducted mold design and development based on the original data of the Wrangler JL, which is highly consistent with the curvature of the body and non-destructive installation. Three-point fixing holes are used to make it more secure and prevent it from loosening.
A-pillar mounting design provides ample room for you to mount 4 pieces led light pods on the right & left side pillars, and provides you with a brighter view during driving.
The ACF hole position is a three-point fixed hole position, B is a high-position light holder (suitable for various types of spotlights without affecting your view), and D is a low-position light holder. (It can also be disassembled if not in use)
—
 Double Protection

—
The A-pillar spotlight bracket has a rubber pad in contact with car body, which can reduce friction and unnecessary noise.
—
 Material 

—

Made of high-quality 6061 aluminum alloy, which is not only corrosion-resistant but also scratch-resistant and wear-resistant, further ensuring the durability of the A-pillar.
—
 Simple Installation

—
As shown in the picture, only three screws are needed for disassembly, and you can install it yourself
—
 Loading Effect 

—
---