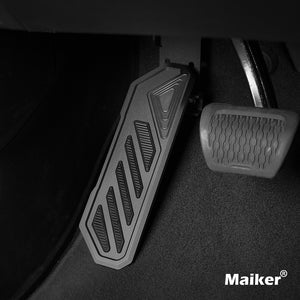 Maiker Dead Pedal Left Side Foot Rest Kick Panel For Jeep Wrangler JK JL Gladiator JT
Maiker Dead Pedal Left Side Foot Rest Pedal For Jeep Wrangler JKJL/JT
"Maiker Dead Pedal"
Continue to enhance the new style
When driving, the left foot is not placed at a suitable height, which is equivalent to a semi-suspended state. It is undoubtedly very uncomfortable for car owners who drive for a long time, especially those who often run long distances, and greatly increases the fatigue of driving. It is very necessary to design a suitable stepping material for the left foot!
In response to this situation, Maiker has launched a rest pedal, which is suitable for all Wrangler models, including 4XE models. Made of aluminum alloy material, it fits the original car design and is installed without damage.
— Installation Effect —
— Bearing Capacity  —
The thickness exceeds 1.5cm, and the solid materials bring better load-bearing and sturdiness. It will not deform when you step on it, making it safe and reliable.
Here is a comparison with the more common pedals on the market. The result of using too thin materials is that it cannot bear at all. You can see obvious bends after just stepping on them twice, which is a real safety hazard.
— Anti-slip —
We also designed multi-section silicone anti-slip strips on the surface of the pedals to prevent them from slipping and reduce unnecessary accidents.
It uses standard steel anti-slip screws and nuts to ensure that it will not be easily displaced after being fixed, which is safe and secure. The multi-hole design can adjust the angle according to personal preferences, which is safe and more personalized. It is fixed on the original car screw posts, so there is no need to modify or damage the original car parts. The anti-slip nut fixation is more firm and secure, and the installation is very convenient.
— Customer Feedback —
---