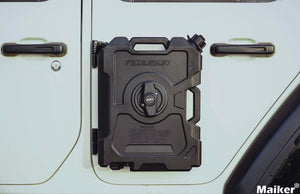 Maiker 7/9L Door Tank Kits For Jeep Wrangler JK/JL/JT
"Outdoor camping" is one of the ways of life and entertainment for people to adjust their mentality and relieve stress.The problem of [storage water] when going out has become a major problem that everyone urgently needs to solve.
"Maiker Door Tank Kits"
Help you solve this problem.
The storage space of Wrangler is limited,when water is stored together with other items in the car, there is also a risk of leakage, which can easily affect the travel plan, so adding a [Door Tank Kit] is undoubtedly an excellent choice.
— Convenience —
We hang the tank on the door of the car, which will neither affect the storage space nor affect other experiences of using the car. Safe and more practical and portable.
—
 Universal

 —

Fit for all Wrangler JK/JL(Both 2/4Doors)/JT models

.
—
 Polyethylene Material

 —

Resist stress! Anti-collision! Anti-wear! As a door tank, it can also protect the door and avoid scratches from branches/debris when off-roading in the jungle.
—
 Two-way Carry

 —
—
 New Brand Tank

 —

Equipped with a capacity of 2.5 gallons/9 liters, built-in extended slow-flow water pipe, external anti-loose and leak-proof sealed oil drum cover + pressure relief valve
—
 Die Casting Aluminum Mechanical Lock

 —
—
2 Types of Capacity Tanks

 —
—
 More Details

 —
---