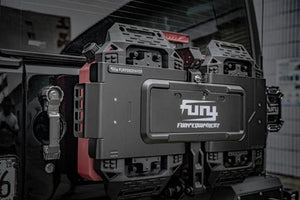 Awaken Series Tailgate Equipment Integrated Group for Jeep Wrangler JK JL
Do you have such a problem? The spare tire is basically not used in the daily off-road.But If you want to remove the heavy spare tire, you can't find a suitable solution or product to solve this problem. Today, our newly launched product is sure to help you solve this problem. Let's introduce this product in detail below.
This product is still an absolute original design, with absolutely coordinated proportion, beautiful appearance, and practical function. 
The main body of the product is equipped with a pair of 7.5-liter explosion-proof oil drums, a pair of rescue plates, expansion panels on both sides, adjustable camera brackets, high-position brake light brackets and linkage locking opening and closing panels.
The linkage opening and closing structure makes the disassembly of the oil drum and the rescue plate very convenient.
The brake light holder and the adjustable camera holder are designed in the most reasonable and suitable position, and still adopt a very simple and smooth design.
In the configuration of the product, we also designed a built-in locking mechanism, which can prevent theft of the rescue plate and the oil drum, and also solve the problem of bumps and looseness in the off-road section. 
The expansion panels on both sides, combined with the provided Velcro straps, can be used to fix various outdoor rescue equipment such as fire extinguishers, shovels, and trailer belts.
 The mirrored high-gloss embossed LOGO on the upper left corner and the certification mark on the lower right corner make the whole product rugged without losing its texture. 
---