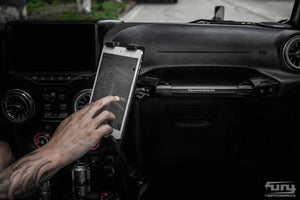 Awaken Series Co-pilot expansion kit for Jeep Wrangler JK
This new works is still Awaken Series, which have received many favorites. This works is also in areas that have never been involved before. It is customized for Wrangler JK, the co-pilot expansion kit.
Follows are some detialed introductions of this new product. First, it consists of three parts, the left and right fixed modules and the dry carbon connecting rod. For the main carbon fiber connecting rod, we use the best quality dry carbon to ensure strength without losing toughness. The splicing of dry carbon and metal is also more textured.
At the same time, we are also equipped with 
a 1-inch expansion ball head, adjustable connecting rod, and tablet holder.
The original co-drive armrest assembly is replaced with the original position, which fits perfectly without any modification.The erection position and angle adjustable range of the expansion kit are the strongest and most suitable position for the tablet in the entire cockpit.
It is very suitable for outdoor cross-survey topographic maps. It is also the best entertainment media installation location for the co-pilot. In addition to functional expansion, the awakening element structure also makes JK's interior more modern and equipped.
Hope this product can also be loved by everyone!
---