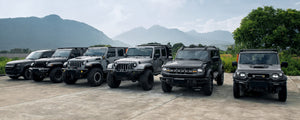 2023 Maiker Offroad Models Gather Travel
Maike Auto
Founded in 2008, Maiker has a history of 15 years.We are all about the love of the automotive modifications and upgrades.We deal in a large range of products such as bumper. roof rack, grille. side step bar and so on.
Our company also owns many popular off-road models on the market,for example. Jeep Wrangler, Suzuki Jimny, Ford Bronco... So this time we will also hold a gathering trip.
For the trip we are going to arrange six models, they are Jeep Wrangler JK, Jeep Wrangler JL. Jeep Gladiator JT, Ford Bronco, Suzuki Jimny, Land Rover Defender, all of which are very popular all over the world.
On the way!
Every car rides on the highway
Have a rest!
First one is the Jeep Wrangler JK.
Ford Bronco
Jeep Gladiator JT
Land Rover Defender
Last One is Jeep Wrangler JL
Jeep In Jungle
Pass easily, just a piece of cake for Jeep.
Came across a creek
17''KMC Wheel 35''Tire
JL/JT Extension Fender Trim Just In Handy
 Cover large size tires, provide a wide and sturdy barrier between tires and the body of your Jeep, effectively keeping dirt, rocks, and other debris from damaging the paint and can also keep your Jeep cleanliness.
Group photo
Go on and cross a path
Another Beautiful Scenery
Arrive at destination
---